14 května 2019 |
media releases
Highlights and innovations at ISH 2019 – with SAUTER Intelligence Inside
From 11-15 March 2019, it was that time again. ISH, the world's leading trade fair for water, heating and climate, held every two years in Frankfurt, once again offered around 200,000 visitors many inspiring impressions on topics such as sustainable climate and building technology and innovative building solutions.
This year, our SAUTER trade fair stand in hall 10.2 A61 was all about digitalisation. Customers, visitors and interested parties experienced SAUTER under the motto "Intelligence Inside", with a new stand design and many impressive new SAUTER hardware and software products such as the Smart Actuator, the eValveco dynamic flow control system, our Mobile Building Services and further SAUTER app and cloud solutions.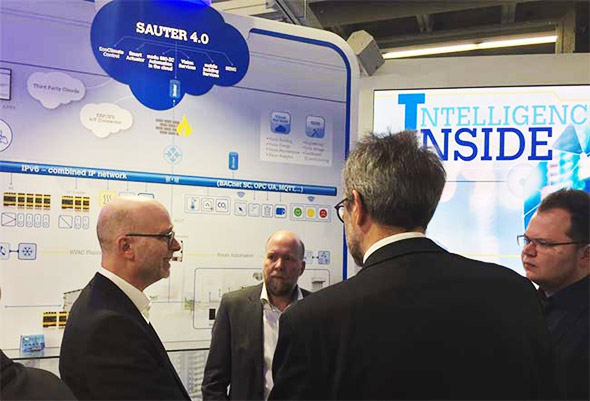 A particular highlight of this year's trade fair presentation was the world première of our new SAUTER modulo 6 building automation system, which is distinguished by its outstanding performance, intuitive operation, backwards compatibility, cloud- and IoT-capability, maximum connectivity and flexibility, all while meeting the highest security requirements.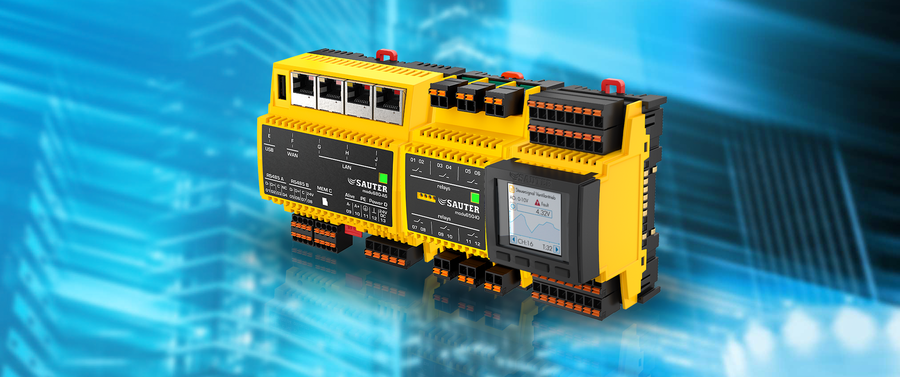 Many visitors also enjoyed one of our entertaining presentations at the SAUTER stand, moderated by our own Martin Hall, who informed our audience in a spectacular show about the company, our highlights for this year's trade fair and the topics of continuity, digitalisation and SAUTER 4.0.
We would also like to take this opportunity to mention our current Roadshow, which will be focussing this year on digitalisation, building automation 4.0 and our new SAUTER modulo 6 building automation system. We will be writing separately soon to notify you of the exact dates and locations.
You will also find a summary of our trade fair topics and further information on our innovations and on SAUTER modulo 6 on our landing page for ISH 2019 (link https://ish.sauter-cumulus.de). Our sales representatives from the SAUTER subsidiaries will naturally continue to be at your disposal for any questions.
About SAUTER
As the leading provider of solutions for building automation technology in Green Buildings, SAUTER ensures good climate conditions and a sense of well-being in sustainable environments. SAUTER is a specialist in developing, producing and marketing products and systems for energy-efficient total solutions, and offers a comprehensive range of services to ensure the energy-optimised operation of buildings. Our products, solutions and services enable high energy efficiency throughout the entire life-cycle of a building – from planning and construction through to operation – in office and administrative buildings, research and educational facilities, hospitals, industrial buildings and laboratories, airports, leisure facilities, hotels and data centres. With over 100 years' experience and a track record of technological expertise, SAUTER is a proven system integrator that stands for continuous innovation and Swiss quality. SAUTER provides users and operators with an overview of energy flows and consumption, and of the development of the costs involved.
The SAUTER Group
An international corporation with its headquarters in Basel, Switzerland
Founded in 1910, it can rely on more than 100 years of tradition and experience
With more than 2,300 employees, it is present and active globally
Complete building management solutions from a single source Focusing on maximum energy efficiency and sustainability
Safeguarding investments and operational reliability throughout the life-cycle of a building
Technology leader in the building automation and system integration sector
Member of eu.bac, BACnet Interest Group (BIG-EU), BACnet International, EnOcean Alliance
Références de renom sur www.sauter-controls.com